Rail, Regions and the Importance of Effective Infrastructure Delivery
Posted On October 3, 2019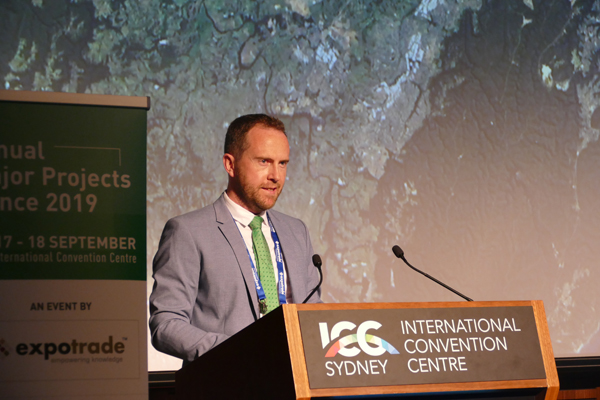 The 11th edition of the NSW Major Projects Conference recently concluded, providing attendees with plenty of networking opportunities and food for thought within the context of the state's expansive infrastructure sector.
Inland Rail's Director of Program Delivery Brad Jackson opened the event, providing updates on the transformative railway project and exploring the "modal shift" created by the Rail upon its completion.
Jackson also explored the Rail's benefits for regional areas of NSW and surrounding states, by acting as a legacy asset for regional communities rather than a stranded one through delivering and re-purposing infrastructure assets for long term use.
Tim Parker, Executive Director Projects of the city-shaping Sydney Metro project provided an urban perspective on developing major rail infrastructure within the state.
Parker reported that more than two thirds of tunnelling had been completed for the project, before delving into separate station updates including Central Station upgrades and the development of the new Central Station Walk, an underground concourse intended to better connect passengers to existing trains, light rail and the Sydney Metro network.
Shifting focus to Sydney's built environment was Deirdre O'Neill, Project Director of the Sydney Football Stadium Redevelopment.
O'Neill unpacked the various challenges facing the original Sydney Football Stadium, from its concourse congestion and poor quality of offerings due to facilities and space constraints, to the stadium's lack of female toilets, increased competition and high operating costs.
The Sydney Stadium Redevelopment, O'Neill explained, will be globally competitive by attracting major events to Sydney, while providing visitors with a better experience and improved accessibility, and equipping operators and hirers with greater team and media facilities and more efficient operations at a world class level. Complex yet best-practice stakeholder and community consultation has propelled the project towards meeting these goals and embodying a successful, efficient completion.
Two days of timely project case-studies were broken up with expert speeches centred on what NSW is doing well infrastructure-wise, and what it might need to do better.
UDIA NSW Greater Western Sydney & Southern Regional Manager Keiran Thomas analysed urban renewal in the Greater Western Sydney area, stressing the need for new rail projects to not only support speed, but to support new centres elevated by infrastructure locked in and delivered by the State Government.
A panel discussion featuring experts from Aurecon, Urbis and TTM Australia unpacked the complexities of Sydney's dense urban congestion. Exploring the benefits and disadvantages of the state's Urban Congestion Fund, the panellists ultimately championing a future-focused, research heavy approach to planning infrastructure to ease congestion.
With speakers, sponsors and attendees alike committed to delivering forward-thinking infrastructure to support a rapidly growing state, Expotrade looks forward to launching next year's NSW Major Projects Conference, and eagerly awaits the evolution of new and ongoing major projects state-wide.
About Expotrade
Expotrade is a global conference and event organizer with its head office based in Melbourne, Australia. Expotrade has delivered some of the largest, most successful B2B industry conferences and events in the areas of infrastructure, major projects, sustainability, technology & architecture.
For over 10 years, our unique blend of knowledge, experience and flexibility has accomplished an array of consistently top-quality events. Today, Expotrade events enjoy such a distinctive edge, they are amongst the best patronised in the calendar.

For more information, visit www.expotradeglobal.com