9th Annual NSW Major Projects Conference
Posted On November 20, 2017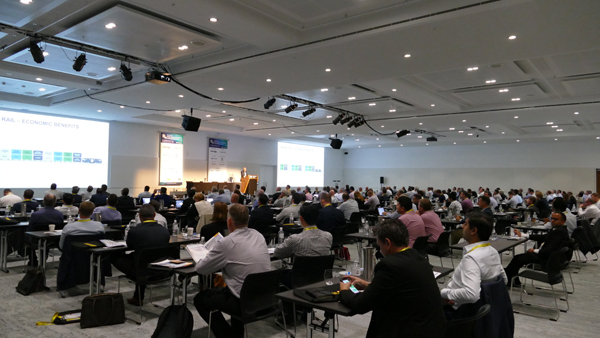 Held at the newly renovated International Convention Centre – Sydney, on the 14th and 15th of November 2017, the 9th Annual NSW Major Projects Conference once again proved to be a premiere event in the infrastructure industry.
With over 250 attendees, 15 sponsors and 28 infrastructure expert speakers convening for the event, the NSW Major Projects Conference 2017 was a thought provoking event that not only spotlighted major projects in the state, but also allowed specialised networking sessions for attendees.
Here are some of the event's highlights:
Camilla Drover, Executive Director of Motorways, Roads and Maritime Services NSW, discussed the benefits of building the Western Harbour Tunnel. The first harbour crossing project in 25 years, and the third one in total, will provide much needed congestion relief for the Sydney Harbour Bridge and Sydney Harbour Tunnel.
Congestion was a continuing theme through the two-day event. Tom Gellibrand, Deputy Program Director for Sydney Metro at Transport for NSW, outlined the latest updates for Australia's largest public transport project, Sydney Metro. Gellibrand reinforced that the project will feature safe and secure automated trains that encompass both accessible systems with comfortable services all while being quick and reliable.
Moving away from Sydney, Simon Thomas, Programme Director of Inland Rail at ARTC, presented on the east coast Inland Rail project. ARTC are Australia's largest rail freight network operators, and have invested $6.5 billion in the industry since 2004. The rail will add an extra 500km to already existing structures, will include Australia's longest freight tunnel (6.38km) and will create 16,000 jobs during construction and 700 during operation.
Andrew Summers, Project Director of Sydney Light Rail at Transport for NSW, then outlined project updates and opportunities that will come with the Sydney CBD and South East Light Rail project. With 50 per cent of the 25,000 meter track already installed, the light rail will provide an environmentally sustainable public transport system in the city centre.
Terry Chapman, Project Director of WestConnex Stage 1 (M4 Widenings and M4 East) from Sydney Motorway Corporation, revealed the latest updates on Australia's largest transport infrastructure project, WestConnex. With the King Georges Road Interchange Upgrade completed, the M4 widening project finished, tunnel breakthrough on the M4 East and 20 per cent of the new M5 complete, the project is well underway.
Taking a break from transport systems, Andrew Manning, Chief Executive Officer of School Infrastructure NSW, described the future of education facilities in NSW. With a predicted 21 per cent increase of students by 2031, School Infrastructure NSW plans to create 120 new and upgraded schools, 1500 extra classrooms and therefore creating 32,000 extra student places available.
Jane Fitzgerald, NSW Executive Director Property Council Australia, Paul Bloxham, Chief Economist HSBC, and Wendy Hayhurst, CEO NSW Federation of Housing Associations, all took part in a panel discussion regarding the Sydney property market and the housing affordability conundrum. Panellists agreed that supply is finally reaching demand, and this will see the market lower in price making it easier for people to break into it.
Day Two began with a ministerial address by the Hon. Melinda Pavey, Minister for Roads, Maritime and Freight. The Minister comprehensively spoke on the various major projects occurring in NSW and increasing mobility across the state; all in a bid to build NSW's future.
Matt Coetzee, Managing Principle of Environment and Planning at Aurecon, revealed plans to create the Western Sydney Aerotropolis. The project aims to create a hub of economic drive around the region. It is estimated that by 2041, the aerotropolis will have create a total approximate of 47,000 plus jobs in aviation, construction, retail, manufacturing, trade and more.
Focussing in further Craig Butler, Assistant General Manager of Penrith City Council, presented on the growth opportunities the airport itself will bring to the community. By the early 2030s Penrith Council and other Western Sydney communities will have a 60,000 increase of residents, 30,000 additional houses and will have needed to create 50,000 new jobs. Due to its central location, the Western Sydney Airport will help ease this pressure while bringing economic stability to the area.
Dafydd Wyn Owen, a Partner at HKA, talked on the Hyperloop's development. Expected to have a corridor running from Geelong to Newcastle, the Hyperloop is estimated to travel 500 kilometres in 30 minutes at speeds of 1000-1200 kilometres per hour. It will create jobs, create better accessibility for those living in regional residential areas, is environmentally sustainable and is the first new public transport vision in 100 years.
David Hensher, Founding Director Institute of Transport and Logistics Studies The University of Sydney, Michael Jollon, Service Manager Transport Planning City of Parramatta, Professor Glenn Geers, Principal Engineer Network Operations and Management ARRB, and Sebastian Smyth, Executive Manager City Access and Transport City of Sydney, took part in Day Two's panel discussion. Panellists responded to questions regarding the growing issue of congestion within Sydney. Four themes were prevalent throughout, smart mobility, governance reform, road pricing reform and an aim of a future with no traffic congestion.
The 9th Annual Major Projects Conference 2017 was a successful event featuring topical and comprehensive presentations by some of the infrastructure industry's most innovative people. The two-day event, 14th-15th November, at the International Convention Centre – Sydney, brought together industry experts and senior level executives to share knowledge surrounding NSW's upcoming and current major infrastructure projects.

About Expotrade
Expotrade is a global conference and event organizer with its head office based in Melbourne, Australia. Expotrade has delivered some of the largest, most successful B2B industry conferences and events in the areas of infrastructure, major projects, sustainability, technology & architecture. For almost 10 years, our unique blend of knowledge, experience and flexibility has accomplished an array of consistently top quality events. Today, Expotrade events enjoy such a distinctive edge, they are amongst the best patronised in the calendar.
For more information, visit www.expotradeglobal.com